Rayhaan Lim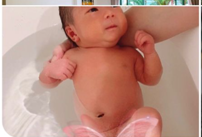 Me and my wife have been staying here for 3 weeks, we will be here for another week ,i would like to says it is more like staycation rather than confinement, environment here is tranquil and peaceful, food served is delicious and delicate, I heard that the chef was the ex head chef of Mount Elizabeth Novena Hospital, Nanny assigned to our room is a Malaysian, very caring and helpful.
Sophia has been very responsive, she would attend to my wife's request very promptly.
Thank you all again new life team.
I had a wonderful experience at NewLife confinement center. The place is very tranquil and suitable for recuperation after birth. The food was also meticulously prepared that focus on helping mothers to nurse back to health especially the herbal tonic soup. I was also looking forward to the delicious food during each meal. The services also include massage and herbal foot soak. Special mention to the nanny who was professional and shared many helpful tips on how to manage the baby. Overall, it was a great experience. Would recommend to others.
我出月子啦💃🌞🌻🍎🍭🍻🎊🎉
感谢Newlife月子中心,感谢美丽的经理Sofia,感谢月嫂Lily!她们对产后焦虑+善变的我一直耐心对待,帮我解决各种问题,让我安心地坐好月子。
回想起第一天住进来的时候,老公不在身边,我特别焦虑,加上担心母乳不够,半夜急得哭起来,第二天一早就喊着回家。Sofia耐心地安慰我,和我一起想办法,商量解决了我的顾虑,让我渐渐适应月子生活。在月子里,我每顿吃不同的美味的菜,总是很有期待(月子里需要创造一点惊喜才不会无聊)。庆幸自己当初的选择,选择了Newlife✌️✌️
I had wonderful experience in Newlife confinement center. They are very professional in providing confinement service, especially their confinement food and nanny. Kelvin's culinary expertise is on par chefs from 5-star hotels. He cooked delicious Chinese, Western, and Japanese food, and personalized the flavor (e.g., less salty) to my liking.
Aunty Kareen is a very professional and experienced Nanny and she took good care of me and the baby with patience. I am very touched by the fact that she will remind me to drink water and take my medicine every day. Overall, a 5 star rating!
Thanks to Sophia for the sweet caring and helping. I enjoyed my time here and would recommend to others.