Lactation Consulting and Massage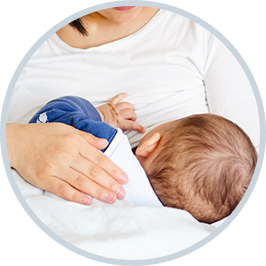 Breast milk is naturally the perfect food for new born baby. The highly active immune and growth factors contained in the colostrum insures the growth of the new born baby.
Breastfeeding is not only economic, healthy, safe, but also benefits uterine contractions and "lochia" discharge for the mother. It lowers the risk of breast cancer, especially if a woman breastfeeds for longer than one year. There are more and more career women who realize the importance of breastfeeding for both mother and baby, and choose to breastfeed the baby as much as they can. It is definitely a great life experience to a woman, but not an easy task.
At present, lactation consultant is available in most postpartum wards in Singapore. They provide advices on breastfeeding and simple breast massage to the mother.
Besides the services a lactation consultant usually provides, our registered TCM physicians provide home service during your confinement period to help the mother and baby make breastfeeding an enjoyable experience, and reduce the risk of having breast diseases in the future. The physician will assess the problem based on Chinese medicine theory, and provide meridian massage, acupressure, natural Chinese herbs or acupuncture when necessary to solve the issues related to breastfeeding. Our TCM physician is well trained in both human anatomy and Chinese medicine. A TCM physician treats a patient as a "whole", which means she does not only treat the "breast", but "the person".
The TCM lactation treatment could solve the common problems that breastfeeding mums often encounter:
No milk or insufficient milk production
Breast engorgement
Mastitis
Flat or inverted nipple
Latching on related issue
Ablactation
Our TCM physician will visit you at your place and prescribe the best treatment plan base on individual's needs. Unlike a causal massage, the duration of each visit varies. It may take 30-90mins depends on individual's condition. You pay for the expected result not the duration of the treatment. The treatments may include one or more of the following:
Acupressure / Tui-Na
Acupuncture
Chinese herbal medicine
Diet recommendation
Advice on breastfeeding concerns and issues.
Now Promotion Price  $ 195 per visit!